In the spirit of the second-line tradition, Sass-a-Brass provides live entertainment at grassroots and low-budget events that are usually free, outdoors, and open to the greater community. We bring musical joy to Pride parades, queer-friendly religious gatherings, rallies, protests, Mardi Gras events, DIY fundraisers and more.
At the same time, we are committed to paying our musicians a living wage. As women, trans and queer people who are historically underpaid in most sectors of the economy, especially in the arts, we believe that our music-making work should be fairly compensated. To do this, and still maintain our affordability as a band for hire, we have to raise money!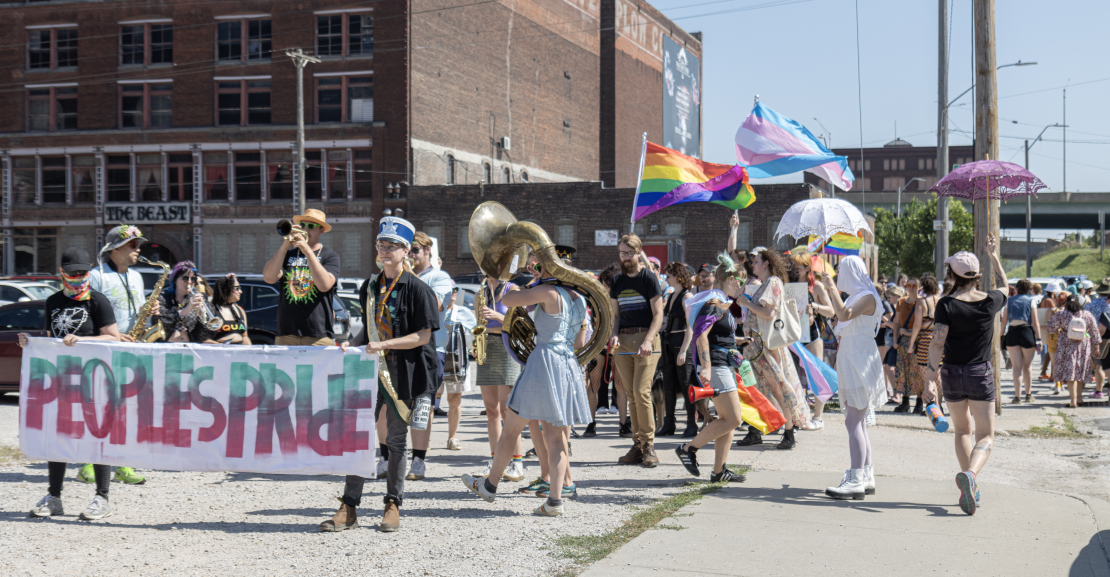 In 2023, the Charlotte Street Foundation awarded Sass-a-Brass a $5,000 Cultural Producer Grant, which allowed us to play five different parades and events over the summer. Throughout the fall and winter, we will continue to raise funds to support our work during the Mardi Gras season (January and February 2024), which includes hosting open practices to steward the second-line brass band tradition throughout the local arts community. Players of all ages and experiences are encouraged to join us in learning traditional Mardi Gras tunes like "When the Saints Go Marching In," "Li'l Liza Jane," "I'll Fly Away," "Bourbon Street Parade," and more. The ad hoc brass band plays these songs in the streets and at themed parades throughout the season, ending in the Fat Tuesday parade traditionally heading west on 18th Street and ending in Kansas City's historic jazz district, 18th and Vine. You can find out more about these open rehearsals as the season approaches, through our public calendar.